Latest News
I'll be playing Regina in Lillian Hellman's THE LITTLE FOXES October 18 thru November 12 at Palm Beach Dramaworks.
It was an absolute joy to be a part of the first Broadway national tour of the Tony Award winning CURIOUS INCIDENT OF THE DOG IN THE NIGHT-TIME!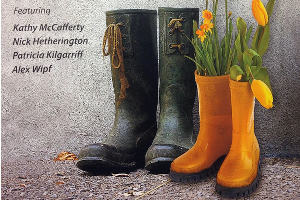 I had a lovely time in Florida playing Rosemary again in OUTSIDE MULLINGAR, this time at Palm Beach Dramaworks, March 25 - April 24, 2016.
Performed the role of Julia in DADA WOOF, PAPA HOT at Lincoln Center, opposite John Pankow and John Benjamin Hickey. Now playing through Jan. 3rd, 2016.
Read leads in Sarah Ruhl's STAGE KISS and NYC premiere of FATA MORGANA for NYC Monday night series.
Outside Mullingar
McCafferty is winning as the blazingly intelligent, lovely and determined heroine whose strength barely masks a longing that threatens to burst out her body. McCafferty perfectly depicts those warring elements.She makes credible Shanley's admiring view that the couple would never get together if not for Rosemary's courage and perseverance, which rivals that of the Bible's Ruth. Try not fall in love with her yourself.
-- Florida Theater OnStage
The Little Foxes
at once charming and conniving...and utterly unforgettable.
-- Palm Beach Illustrated
Falling
Shadowland alumna Kathy McCafferty delivers a powerful performance. Compassionate yet fearful, loving but overwhelmed, energetic yet utterly exhausted, McCafferty's exasperation is palpable.
Falling
Tami, is played with a double dose of courage, honestly, realism and sardonic humor by Kathy McCafferty. Kathy as Josh's mom, not only keeps the play going she keeps the family and herself going, during some pretty uncomfortable situations.I can't remember the last time I was so filled with genuine feelings while watching actors on a stage. Because in my reality, they ceased to be actors, I was watching a real family.
-- The Catskill Chronicle
Last Gas (world premiere)
Portrayed by Kathy McCafferty with that sort of room-filling effervescence that we sense borders on desperation, Lurene is looking hard for something she later learns might never have been real. McCafferty's energetic performance made even her character's rediscovery of a familiar regional confection into a remarkable event.
Dancing at Lughnasa
I will never again be able to see the character of Rose without recalling Kathy McCafferty's indelible performance.
-- The Republican American
The Little Foxes
Kathy McCafferty ... is luminous as Regina
-- Florida Theater Onstage
The Vertical Hour
McCafferty, who astutely speaks with authority which brings substantive credibility to Nadia's unwavering principles, supplies a feisty fervor throughout, a key element missing from Julianne Moore's oddly tentative portrayal in original Broadway production.
The Vertical Hour
Kathy McCafferty created a stage persona of both physical beauty and dramatic veracity.
Outside Mullingar
...when Rosemary (McCafferty) pours her heart out to Anthony in that final scene and he remains maddeningly non-committal, try and restrain yourself from shouting out loud, "Kiss her already!"
The Little Foxes
McCafferty combines manipulative charm, bite and a relentless will into a toxic brew.
Contact
Legit Representation
Judy Boals
Judy Boals, Inc.
262 West 38th St., #1207
New York, NY 10018
212-500-1424
Direct:
917-671-8789
kathymccafferty3@gmail.com